To the Cove & Winning at Bude
"the old mortuary had been converted to provide premises for winter meeting"
The next priority was the building of a club headquarters nearer the beach. Thanks to Len Claydon and the coastguards, we had been using the facilities of the coastguard station and the old mortuary (now the Lych Gate leading to the Garden of Rest near the Methodist Chapel) had been converted to provide premises for winter meetings.
Mrs M.H.B. Lethbridge generously donated the site where the club stands to this day. The site is held in trust for the club under the proviso that it can only ever be used for lifesaving purposes. Our thanks to her for this ongoing gift!
The sites proximity to the beach meant that equipment could be stored close to where it was needed and members would have their own meeting place and changing room. Everyone worked with a will to clear the site and Alan Mitchell laid the concrete floor on which the wooden hut was to be constructed. Paul James organised the building and with its distinctive cedar shingles, it served us well for many years.
By the summer of 1956, we were well equipped and had a fair number of qualified Surf Life Savers. A routine of patrols was now regularly in place from May to September at weekends, and the club was gaining in strength.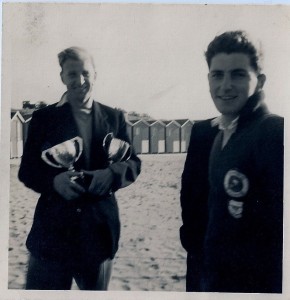 The next year was a very good one for the club culminating in the winning of the Championships at Bude. The weather on Crooklets Beach was appalling with high winds and blown out surf to say nothing of the temperatures that seemed to be sub-zero. Unfortunately, several of the events had to be cancelled. The team consisted of David Docking (team captain), Gerald Simmons, David James, Alan Thomas, Roy Mitchell and Peter Boeck. Gallons of hot soup, tea and coffee were the order of the day as competitors, blue with cold, came out from the water.
Next: Tragedy & Invention