Groups
Our coached groups run throughout the summer from Trevaunance Cove and during the winter in the pool.
To get the most out of the club, we recommend that everyone (even grown ups) take the opportunity to join a coached group if possible.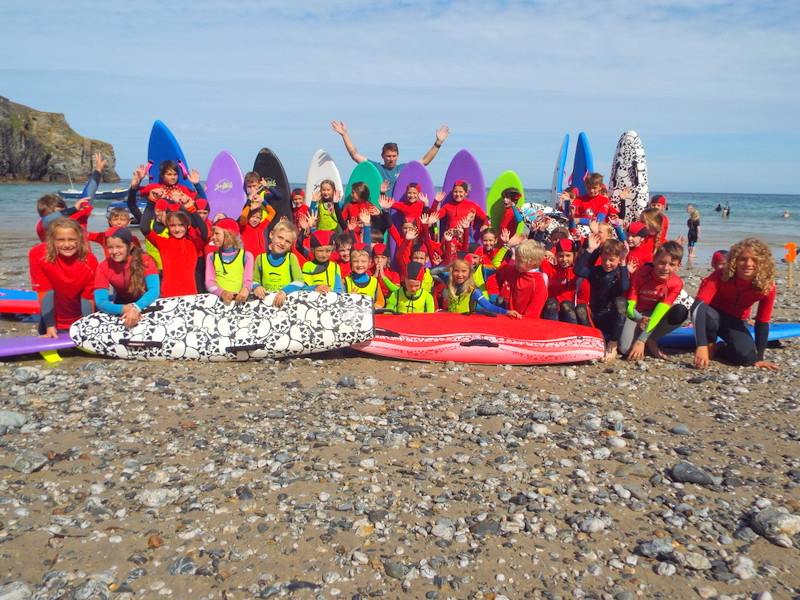 Thinking of Joining?
Please get in touch with the group contact below BEFORE joining to find out if there is space or to join the waiting list.
Reception: registration opened 1st September 2021, this group will start on the beach in summer 2023.
Year 1: no pool sessions, will start on the beach in summer 2022.
Year 2 – Year 11: most groups are fully subscribed and some have a waiting list. Please email the relevant Group Contact (listed below) for further information.
Youth coaching groups are allocated by school year. Fees for the 2021/2 are £100 per child; this includes membership and all subs for pool and beach sessions.
Each group must be self sufficient, finding coaches, helpers and qualified lifeguards from within the parents of that group. Adults can join with their child at a special reduced rate of only £35 on the understanding that they make a contribution to the club.
Group Contacts
This is the best person to contact if you have any questions about a group or wish to join.
Group Leaders & Coaches
All our group leaders and coaches are DBS checked. Each session is lead by an SLSGB Qualified Level 2 coach assisted by one or more Level 1 coaches and parent volunteers. Our beach sessions are also supported by a qualified lifeguard. The club will cover the cost of these qualifications for parents who commit to helping out.
School
Year 21/22
Named Coaches
Reception
TBC (This group starts on the beach in June 2023)
Y1
Rich Draisey
Y2
Tom McHugh
Tom Hardy
Y3
Damian Prisk
Chris Barnes
Y4
Claire Bettison
Steve Instance
Y5
Jo Mooney
Fiona Hayes
Adam Hayes
Paul Mooney
Y6
Hayley Gay
Steve Instance
David Friedericksen
Y7
Fiona Hayes
Jamie Kent
Adam Hayes
Y8
Gavin Forehead
Y9+
David Friedericksen
Adam Hayes
Joel Henthorn
Steve Instance
Cath Murden
Expected Standards
We aim to create the most inclusive and welcoming environment for everyone. However, the sea is a potentially dangerous environment and it is important for the safety of all involved that we can rely on participants to be capable of some level of self support.
Our sessions are not a substitute for swimming lessons and we expect and may insist that children (particularly < Y5) attend swimming lessons.
School
Year
Expected Standard
Y1 – Y2
25m Pool Swim
25m Beach Run
25m Sea Swim (wetsuit)
Y3 – Y4
100m Pool Swim
100m Beach Run
100m Sea Swim (wetsuit)
Y5 – Y6
200m Pool Swim
200m Beach Run
200m Sea Swim (wetsuit)
Y7+
400m Pool Swim
400m Beach Run
400m Sea Swim (wetsuit)
Pool Session Times 2021-2022
Please read the information here before attending your pool session: Pool Sessions – St Agnes Surf Life Saving Club
School
Year
Date / Time
Location
Reception – Y1
No Pool Sessions
Start on beach June 2022.
N/A
Y2
Sundays from

3 Oct


16:00-16:35
Truro School
Y3
Sundays from

3 Oct


16:40- 17:20
Truro School
Y4
Sundays from

3 Oct


17:25-18:10
Truro School
Y5
Sundays from

3 Oct


18:15-19:00
Truro School
Y6
Tuesdays from 5 Oct
18:15-19:00
Truro High School
for Girls
Y7
Thursdays from 7 Oct
18:00-19:00
Truro High School
for Girls
Y8
Wednesdays from 6 Oct
19:00 – 20:00
Truro High School
for Girls
Y9
Thursdays from 7 Oct
19:05 – 20:00
Truro High School
for Girls
Y10/11
Tuesdays from 5 Oct
19:00 – 20:00
Truro High School
for Girls
Adults (Age 16+)
Tuesdays from 5 Oct
20:10 – 21:00
Truro High School
for Girls
Beach Session Times 2022
Please allow time to be parked, changed into your wetsuit and signed in ready for your session start. Parking can be tight at the beach when our sessions are on and never underestimate how long it takes to get a grom into their wetsuit boots – so please allow plenty of time. Please note that our nipper sessions "YR-Y6″are not "drop and go", a responsible adult must remain at the beach throughout.
School
Year
Session Times
Starting
Y1
Sundays
13:30 – 14:30
5 June
Y2
Sundays
12:00 – 13:00
5 June
Y3
Sundays
17:00 – 18:00
5 June
Y4
Sundays
11:00 – 12:00
5 June
Y5
Sundays
16:00 – 17:00
5 June
Y6
Sundays
10:00 – 11:00
5 June
Y7
Tuesdays
18:00 – 19:00
7 June
Y8
Wednesdays
19:00-20:00
1 June
Y9+
Mondays
19:00 – 20:00
6 June
Seniors "Drippers"
(Age 16+)
Thursdays
18:30 – 19:30
2 June
Seniors "Slippery Eels"
Mondays
19:30 – 20:30
6 June
Seniors "Wednesday Workout"
Wednesdays
From 18:00
1 June
Surf boats
Sundays 08:00 – 09:30
Wednesdays from 18:00
1 June