Our Lifeguard Patrols
Club volunteers are providing lifeguard patrols at Trevaunance Cove. The type and timing of patrols will depend on volunteer availability and we are trying to target our efforts at higher risk times.
Our volunteers have the training and local knowledge to offer advice that we hope will help people to keep themselves safe. Should an incident develop, they can act as an important contact for the emergency services, relaying the accurate information they need to deliver the best response.
These patrols save lives. If you can be a part of this effort, please consider doing so.
When are we doing this?
We've split every day into 3 short shifts. You can do more than one, but because sharing facilities like the kitchen and toilet are higher-risk areas we advise you stick to the 2.5 hours and take your own drinks / snacks.
You can book any shift you like but tide, surf, weather and human factors will mean that covering certain shifts are likely to have a greater impact than others. If you are flexible, please consider filling higher impact shifts first.
| | | | | |
| --- | --- | --- | --- | --- |
| Key: Patrol Impact | Low | Raised | Moderate | High |
10:00 – 12:30
12:30-15:00
15:00 – 17:30
TYPE
Sat 03 Oct
Joel Henthorn
Obs
Sun 04 Oct
Jonathan Davies
Josh Ward
Obs
Sat 10 Oct
Andy Carter
Obs
Sun 11 Oct
Liam Richards
Obs
Sat 17 Oct
Phil Smith
Andy Carter
Obs
Sun 18 Oct
Josh Ward
Obs
Mon 19 Oct
Obs
Tue 20 Oct
Martyn Ward
Anton Page
Obs
Wed 21 Oct
Obs
Thu 22 Oct
Martyn Ward
Anton Page
Obs
Fri 23 Oct
Obs
Sat 24 Oct
Hannah Stephens
Ellie Sayers
Sophie Hellyer
Hannah Stephens
Ellie Sayers
Sophie Hellyer
Obs
Sun 25 Oct
Fred Stein
Joel H
Joel H
Obs
Mon 26 Oct
Steve Instance
Hannah Stephens
Ellie Sayers
Steve Instance
Hannah Stephens
Ellie Sayers
Obs
Tue 27 Oct
Martyn Ward
Anton Page
Obs
Wed 28 Oct
Rich LlewellynMinnow Green
Fi LlewellynMinnow Green
Obs
Thu 29 Oct
Steve Instance
Martyn Ward
Steve Instance
Anton Page
Obs
Fri 30 Oct
Tom Forehead
Fred Stein
Sophie Hellyer
Fred Stein
Obs
Sat 31 Oct
Obs
Sun 01 Nov
Damian Prisk
Josh Ward
Liam Richards
Obs
Please note that the calendar above is Read Only. To book a shift, please click the button below.
Beach Warden
A surveillance patrol is lead by someone who has done the SLSGB Beach Warden training. This 2 hour training highlights how lifeguard operations can be adapted to suit a pandemic environment. To be eligible for this you need to hold a beach lifeguard qualification, have contributed at least 20 hours to beach safety work in 2019 and have a reference from a club trainer assessor (Paul).
Patrol Team
Patrolling alone is risky and we encourage other people to join the patrol. To join the patrol you need to hold a lifeguard or coastal surveillance award.
We'll be running the SLSGB Coastal Surveillance Award over web conferencing in the near future that will prepare you to assist with these patrols. This course is also a great way to review the basics of beach safety that could help keep you and your family safe at the beach and improve your ability to recognise an emergency and confidence to respond in the best possible way.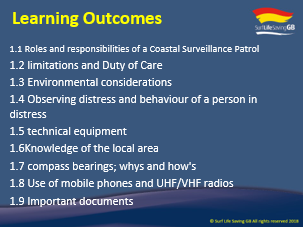 What will I be doing?
Before your shift…
Wear suitable clothes for the weather: don't forget sunglasses and sunblock.
If you have a hi-vis tabard + kit from a previous shift, remember these!
A waterproof watch is useful.
Bring your own pen to complete logs.
Take a drink / snacks if required.
You don't need a wetsuit as a type 1 patrol is observational only.
Read the COVID-19 patrol guidance.
Speak to the patrol organiser to talk through the role.
Starting a shift…
If taking handover from someone else, say "Hi", but remember to keep your distance.
Open the club (you'll get an email with the door code when you book your shift).
Put on clean patrol uniform, either a blue patrol coat or Hi-Vis vest from the CLEAN uniform box.
Grab a whistle and a pair of gloves – these are your to keep!
Sterilise shared equipment: Binos, phone, radio using the wipes provided.
Phone the coastguard to register the patrol. The number is on the wall by the phone: "Hello this is St Agnes Surf Club. We are running a Type 1 patrol until 17:00".
During a shift…
Ensure you are contactable by coastguard at all times: landline handset has quite good coverage but if you are happy using the VHF radio this has excellent coverage.
MONITOR from a location where you can see what's going on whilst maintaining communication .
ADVISE people politely if they are putting themselves or others at risk.
Put up signs or use the red flag as appropriate.
ESCALATE any emergency or developing situation to the coastguard.
Record hourly stats on patrol log.
Ending a shift…
Complete the patrol log.
Phone coastguard to log out.
Sanitise shared equipment: Binos, phone, radio.
Drop your uniform in the used uniform box (or keep it if you are on shift again soon).
Take your whistle & gloves with you.
Check the club is locked up.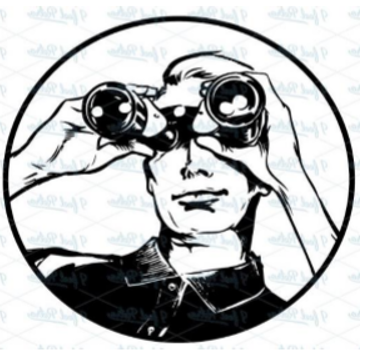 What if …
Lifeguards are trained to assess risk and provide help through intervention where possible. The additional risks of COVID-19 transmission mean that, for both our own safety and the safety of those we are trying to help, we need to review how we react in an emergency.
… someone needs first aid?
Keep your distance >2 metres.
Offer patient / patient's family use of a bagged first aid kit and offer them advice to self help.
… someone is in difficulty?
Call the coastguard: phone 999 or use radio channel 16.
Stay calm, speak slowly and try to give information in an organised way (Position, Problem, People) rather than as a narrative.

ONLY IF you are qualified + capable in the conditions, then:
– Ensure communication with coastguard is maintained at all times.
– Assess risks and make a plan, put the safety of your self, your team and the public above the safety of the patient. Remember that stabilising the situation or preparing for the arrival of other services can often be a better response than attempting a rescue.
– If risks can be controlled:
– STOP, consider full PPE.
– Follow resus council guidance on COVID modified Primary Survey.

IMPORTANT: If you are involved in a rescue, primary care, or even a close contact assist, you must assume that you have come into contact with COVID-19 and follow full decontamination and 14 day self-isolation protocol to reduce the risk of you passing the virus to your family and others.

… I try to help but people wont follow my advice?
A lifeguard does not have the authority to prevent someone going in the sea. We can only do our best to inform their decision making. The best way to achieve this is to stay calm and present the facts. It's super important this is kept very neutral, don't get yourself into a confrontation situation
Why are we doing this?
It's much easier to control risks when working on a preventative basis than in the response phase of a rescue. Prevention and early intervention reduces the likelihood of an incident developing that might put our volunteer coastguard and lifeboat crews in a situation where infection risks are MUCH harder to control.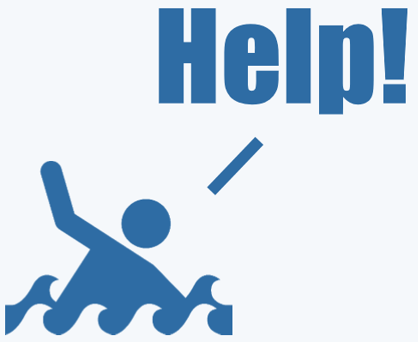 Further Reading
Our patrol documentation can be read in the shared folder, here:
We're constantly looking to develop our patrol framework, so welcome feedback and new ideas.