Community Lifesaving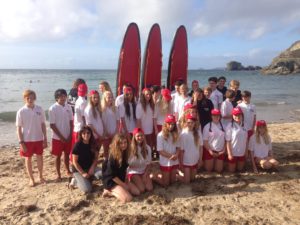 In summer 2015, the club began augmenting the existing RNLI lifeguard patrols at Trevaunance Cove with our own qualified and experienced volunteers. Rather than sitting on the side-lines these volunteers play an active role in patrolling including radio, first aid and educational work.
The relationship is of mutual benefit, the RNLI benefit from the additional resource and the club members benefit from the experience of the professional guards and the opportunity to be part of a real life-saving team. For members wishing to go on to become professional lifeguards this experience is invaluable.
Voluntary Beach Patrols…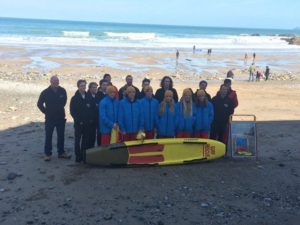 In Easter 2016, thanks to much hard work behind the scenes from Fi and Martyn, we were able to take things a stage further and begin operating our own voluntary patrols at Trevaunance Cove. Our aim was to achieve a level of professionalism equal to the patrols operated by the RNLI, with a full complement of qualified lifeguards and the equipment to support the role. This was the first time in over 20 years the club had operated it's own patrol and was a steep learning curve! In bringing this to fruition we were supported by members of both the local RNLI Beach Lifeguard unit and the RNLI Lifeboat team, it truly was a community effort.
National Recognition…
These patrols were recognised by the national governing body for Surf Lifesaving (SLSGB) for both the opportunities they provide for club members and their impact on public safety. Following the Easter patrols several meetings took place with the SLSGB with the aim of taking the "St Agnes Model" national. This resulted in a new Framework for Lifeguarding that sets out a new pragmatic, iterative approach to patrolling with the aim of enabling community groups to contribute regardless of qualification. As a result of her innovative work in rolling out the Patrols, Fi Llewellyn was awarded the SLSGB Hero of the Surf Award 2019.
Safer beaches for all…


In 2018 the club's project "Safer Beaches for All" was recommended by the Big Lottery scheme for a People's Project award. This put our project to a public vote which, thanks to massive local support, and a great deal of work by Andy, we won! One element of this project was funding better kit to support our patrol volunteers including: our own first responder bag with Oxygen and portable AED, better wet weather gear, new radios, binoculars and a patrol vehicle.
Covid-19 Pandemic Response…
When the pandemic hit, we were asked by Devon and Cornwall Police to keep an eye on our cove, observing whether people were behaving proportionately to the risk. Our volunteers found themselves responding to the same types of incidents we observed pre-pandemic; tidal cut-offs, inexperienced water users and first aid incidents.
We quickly realised that, despite the complications, a lifeguard service was essential to prevent minor incidents escalating to the point they would place an additional strain on our already-stretched emergency services.
The RNLI, who deliver the council-funded patrols, were struggling to figure out how to respond at scale and were busy trying to ensure their charity was not exposed to any losses. In April, we were told that we might receive no patrols at our local beaches all year! 
We were very fortunate in having volunteers from a diverse range of backgrounds, including teachers, hospital workers, RNLI professionals and hygiene specialists. Our iterative and pragmatic approach to solving issues like safe working, first aid, and incident response against a changing backdrop of government advice was testament to the power of grassroots, community lifesaving. This worked well, but as the lockdown was eased and numbers on the beach started to increase dramatically we found ourselves under increasing pressure. Sadly, it took the tragic events of the late May bank holiday when the coastguard service was overwhelmed to force the RNLI to review their position and commit to resuming patrolling.
Together our 216 volunteer hours delivered 815 preventative interventions / assists and first response at 3 incidents at Trevaunance Cove. Given the conditions we experienced, I am sure lives have been saved at our beach. At the start, these patrols were not the "done thing", they were discouraged by organisations much larger than ourselves who had reached the conclusion that incidents should be allowed to develop to the point where our volunteer lifeboat crews and coastguard teams had to pick up the pieces (or worse). As each of us stood at the beach to keep watch, we were also standing against the position that proactive patrols were impossible to achieve. I think our combined and continuing commitment created a lever for change that eventually could not be ignored and exerted influence that spread far beyond Trevaunance Cove.
What's Next…
We hope to continue to grow the number of qualified volunteers in our community to make sure the patrols are sustainable and don't fall to the same few people each year. Regardless of our own capability we're going to keep close co-operation with the RNLI lifeguards as having experienced professionals as part of the team is of benefit to everyone.
Becoming a volunteer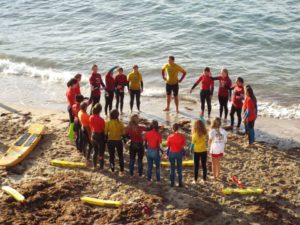 The club will assist financially any member who commits their time to community lifesaving by subsidising the necessary training and exam fees. Our popular adult evenings at the beach throughout summer are a great opportunity to come down and train with the club (member or not) and see if surf lifesaving is for you. Our flexible approach to patrolling also values those who can contribute skills outside the traditional scope of surf-lifesaving. If you'd like to apply your knowledge of the beach to help others, get in touch about our Observational Lifeguard course, you don't even have to get your feet wet!
Help support our volunteers
After the Easter patrols we identified where additional spending could increase the impact of our patrols but we don't think the cost of patrolling should fall to our members. If increased fees discouraged families from joining and benefitting from training then the overall impact of our efforts on the safety of the beach community could be counter productive. So, if you've got any great ideas for a fundraiser or would like to help support the efforts of our volunteers we'd love to hear from you.